Created within seconds online, printed on premium paper An album full of memories is an ideal and very individual present. But sometimes we simply lack the time to take care of the design at our desks at home. Now, the new Pixum Pocket Album offers all spontaneous people and snap decision makers a super-quick and fuss-free alternative.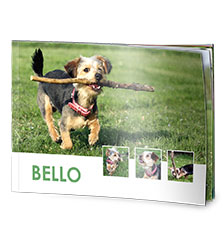 Basically, it just takes a few seconds to create the new Pixum Pocket Album. All you need is internet access, and then you can already start selecting the desired images (for example from your own Pixum online album). Of course you can also upload new pictures. The rest is done by the "auto-fill function". The album comes in a handy pocket size – one photo per page – thus the 26 pages are ready in no time at all. The new Pixum Pocket Album always makes for a charming and top-quality gift idea.
size: 15 × 11 cm (6" × 4")
individual softcover design
high-quality 200 g/m² premium paper
The Pixum Pocket Album is an ideal idea for all busy and spontaneous seekers for nice presents on the fly. It only costs £5.99 plus shipping – a price that predestines it to be a collection of memories covering family celebrations, parties or trips with friends and colleagues and to be shared with more than one addressee.
More Pixum news: the Photo Notebook with individual cover in A4 format. Choose from squared, ruled or blank paper – the robust hardcover edition gives you 144 pages room to write down your thoughts, tasks, sketches, tables etc… No matter if you use it in school, in your job or in your leisure, the Pixum photo-notebook for £14.99 plus shipping always provides a very individual air.