We would like to call our current photo competition on Food Photography to your mind!
Which images can I use?
We would like you to take photos of food that already looks delicious. You can participate with pictures that show food you prepared yourself or saw (and ate ;-) ) in a restaurant. If you decide to pick a receipt and prepare your favourite food yourself, you could also invite your family and friends to share cooking and eating – but before you start enjoying the food, please take a few photos of it.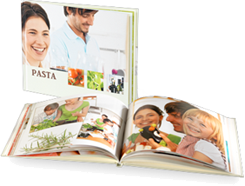 Why should I enter?
You still need a reason to start cooking and taking photos of tasty food? Here is an irresistible one: If you share your food photos with us, you can win a brilliant Pixum Photo Book large landscape with photo paper! All participants get two free* 8? gloss posters. We try to publish as many photos in our blog and all pictures will be displayed in our online album. So don't hesitate any longer but get your camera and start taking some unique photos.
How long does the photo competition run?
You can enter your pictures until the end of February – which is the 29th this year ;-). As soon as we have chosen the winner from all entries at the beginning of March, we will let you know here.